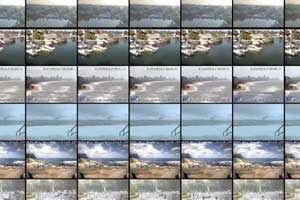 Jon Thomson & Alison Craighead will be showing a new gallery work called, 'Horizon' and their mechanical railway sign version of, 'BEACON' as part of the exhibition, 'Timecode' opening on 17th January 2009 at Dundee Contemporary Arts, Scotland. They have also made a limited edition print for the exhibition.
Here's some more information about Timecode:
Timecode / Dundee Contemporary Arts
17 January 2009 – 8 March 2009
Private View: 16th January 7pm – 9pm
Ross Birrell, Graham Dolphin, Ceal Floyer, Douglas Gordon, Ilana Halperin, On Kawara, David Lamelas, Kelly Mark, Tatsuo Miyajima, Ugo Rondinone, Christian Stock, Thomson & Craighead
Each artist in the exhibition has an obsession with marking time but have very different ways of expressing this – live web streams, wallpaper, lumps of coal, lava medallions, digital code alongside more traditional, yet still idiosyncratic and highly personal approaches – graphite, watercolour and oil paint.
More info and downloadable press release here:
http://www.dca.org.uk/whats-on/exhibitions/timecode.html
More about our work here:
http://www.thomson-craighead.net