Race, Power, and Poetics Seminar Series Autumn 2021/22 
Race, Power, and Poetics is a series of events coordinated by Dr Xine Yao, Dr Lara Choksey, and Dr Rachel E. Holmes. A cross-period examination of the inextricability of its central terms, 'Race, Power, and Poetics' considers the implication of poetic practices and shaping role in racial and ideological dynamics. 
---
Events in this series
Seminar 1: Thursday 28th October
Jonathan Ward (Lecturer in American Literature at King's College London)
Don't Call Us Dead Because We Look Blue in the Moonlight: An Examination of Queer Black Aesthetics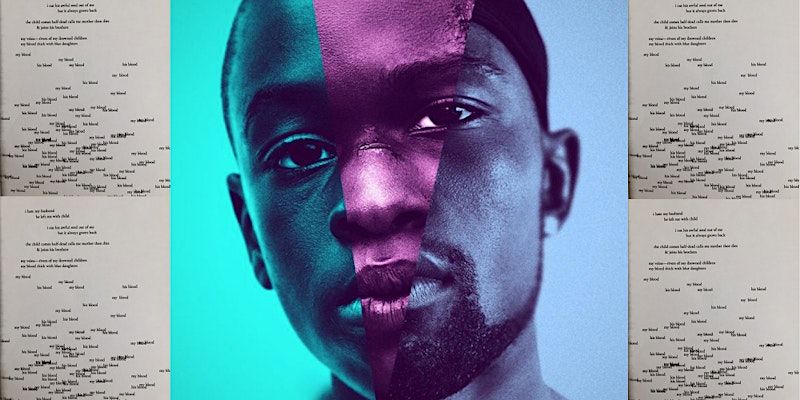 In discussing Barry Jenkins' film Moonlight (2016) and Danez Smith's poetry anthology Don't Call Us Dead (2017), this talk will focus on these texts' engagement with queer Black subjectivity, with particular attention being paid to language, resistance and refusal, visuality and the body. This talk forms part of a larger project that hopes to examine the aesthetics of Black queerness, and think about the potentialities that these aesthetics offer, which will allow interrogation of identity, corporeality, and temporality as they are experienced by the Black subject. In this examination, a variety of texts will be analysed, including Jericho Brown's The Tradition (2019), Janelle Monáe's Dirty Computer (2018), Jay Bernard's Surge (2019), Akwaeke Emezi's Freshwater (2018), as well as Jenkins' Moonlight and Smith's Don't Call Us Dead.
---
Seminar 2: Thursday 18th November
Amy Matthewson (Lecturer in History at New College of the Humanities / Northeastern University)
"Internal Worth by External Appearance": Caricature, Race, and Physiognomy
At a time of British imperial expansion, visual differentiation became an important vehicle in soothing racial anxieties by firmly delineating boundaries and categories of human groups.  The study of physiognomy through caricature provided Victorians with the ability to imagine national physiognomies, which in turn, facilitated a sense of identity.   This paper explores the connections between caricature, race, and physiognomy during the late nineteenth century and considers the ways in which visual diagnosis of the face through exaggerated features shaped ideas about race, belonging, and national identity.
---
Seminar 3: Thursday 2nd December
*This event was postponed *
Sarah Arens (British Academy Postdoctoral Fellow at the University of Liverpool)
"I'm not tempted by Paris": Poetics, Power, and the Postcolonial Intellectual in Brussels
This paper explores the multiple ways in which a range of novels published in the late 90s and early 2000s, by, for example, Patrick François, José Tshisungu wa Tshisungu, and Pie Tshibanda engage with global Black politics and the legacy of the anti-colonial politics of Aimé Césaire, Frantz Fanon, and the wider Négritude movement. Their novels describe their role as 'engaged writers' and intellectuals in the public sphere of Brussels and engage with the complexity of the situation of the authors and their protagonists, which requires them to constantly re-negotiate their social privilege, acquired by having benefitted from a successful integration into the educational system of the former coloniser. Moreover, this paper engages with the aesthetic experimentations and formal innovations of these texts and thus responds to the 'aesthetic turn' in Postcolonial Studies, which Deepika Bahri describes as the need to address 'the aesthetic dimension of postcolonial literature' (2013) and thus the multifaceted ways in which these texts move beyond their status as socio-political documents of a 'minority' experience. These complex amalgamations of literary genres and themes, the role of colonial sciences and historiography, political resistance and responsibility, further draw attention to the intellectual protagonist as writer. The texts represent Brussels as a space of literary production and this paper analyses how their discussions of (trans)national identity and (trans-)national literature are inextricably linked to the urban space of the Belgian capital.
---
Please see the following links for joint Faculty wide news and events