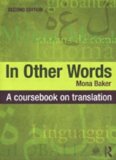 In Other Words: A Coursebook on Translation
Baker, M. , Routledge , 2011
This best-selling textbook written by Mona Baker, a leading international figure in translation studies, is the essential coursebook for any student studying in this field. Assuming no knowledge of foreign languages, In Other Words offers both a practical and theoretical guide to translation studies, and provides an important foundation for training professional translators. The second edition has been fully revised to reflect recent developments in the field and new features include: A new chapter that addresses issues of ethics and ideology, in response to increased pressures on translators and interpreters to demonstrate accountability and awareness of the social impact of their decisions. Examples and exercises from new genres such as audiovisual translation, scientific translation, oral interpreting, website translation, and news/media translation. New project-driven exercises designed to support MA dissertation work Updated references and further reading. A companion website featuring further examples and tasks
---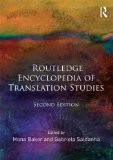 Routledge Encyclopedia of Translation Studies
Baker, M. & Saldanha, G. , Routledge , 2009
Praise for the previous edition of the Encyclopedia of Translation Studies: 'Translation has long deserved this sort of treatment. Appropriate for any college or university library supporting a program in linguistics, this is vital in those institutions that train students to become translators.' – Rettig on Reference 'Congratulations should be given to Mona Baker for undertaking such a mammoth task and...successfully pulling it off. It will certainly be an essential reference book and starting point for anyone interested in translation studies.' – ITI Bulletin'This excellent volume is to be commended for bringing together some of [its] most recent research. It provides a series of extremely useful short histories, quite unlike anything that can be found elsewhere. University teachers will find it invaluable for preparing seminars and it will be widely used by students.' – The Times Higher Education Supplement' ... a pioneering work of reference ...'– Perspectives on Translation The Routledge Encyclopedia of Translation Studies has been the standard reference in the field since it first appeared in 1998.
---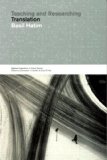 Teaching and researching translation
Hatim, B. , Longman , 2001
This book reports on what has been happening in both the theory and practice of translation and interpreting. It introduces students and teachers of translation to the inctricacies of the process and the diverse demands of the profession. Hatim shows how research is used in practice by translators and interpreters, and also the contribution it has to make to teaching.
---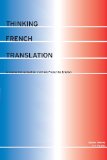 Thinking French Translation : A Course in translation method:French to English (2nd edition)
Hervey,S. & Higgins, I. , Routledge , 2002
The new edition of this popular course in translation from French to English offers a challenging yet practical approach to the acquisition of translation skills,with clear eplanations of the theoretical issues involved.
---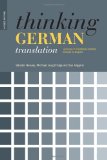 Thinking German Translation : A Course in translation method German to English (2nd edition)
Hervey, S.; Louhridge, M. & Higgins, I. , Routledge , 2006
Offering over 30 Practical translation exercises, and further texts analysed in detail to illustrate the stage by stage presentation of the metho, Thinking German Translation features new contemporary material taken from a ide range of sources.
---
Thinking Italian translation: a course in translation method: Italian to English
Hervey, S.; Higgins, I.; Cragie, S. & Gambarotta, P. , Routledge , 2000
Thinking Italian Translation is a comprehensive and practical translation course. It focuses on improving translation quality and gives clear definitions of translation theories. Texts are taken from sources including journalism, technical texts and screenplays. Translation issues addressed include cultural differences, genre, and revision and editing. Adapted from the successful French-based Thinking Translation (1992), the course has been piloted and refined at the Universities of St Andrews and Glasgow. A Tutor's Handbook is available, which contains invaluable guidance on using the course.
---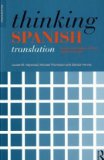 Thinking Spanish Translation: A Course in Translation Method: Spanish to English (Thinking Translation)
Thompson, M. , Routledge , 2009
The new edition of this comprehensive course in Spanish-English translation offers advanced students of Spanish a challenging yet practical approach to the acquisition of translation skills, with clear explanations of the theoretical issues involved.A variety of translation issues are addressed, including:cultural differencesregister and dialectgrammatical differencesgenre.With a sharper focus, clearer definitions and an increased emphasis on up-to-date 'real world' translation tasks, this second edition features a wealth of relevant illustrative material taken from a wide range of sources, both Latin American and Spanish, including: technical, scientific and legal textsjournalistic and informative texts literary and dramatic texts. Each chapter includes suggestions for classroom discussion and a set of practical exercises designed to explore issues and consolidate skills. Model translations, notes and suggestions for teaching and assessment are provided in a Teachers' Handbook available as a pdf from http://www.routledge.com/9780415481304. Thinking Spanish Translation is essential reading for advanced undergraduate and postgraduate students of Spanish and translation studies. The book will also appeal to a wide range of language students and tutors through the general discussion of the principles and purposes of translation.
---