Prof Gaetano Burriesci
Professor of Bioengineering
Dept of Mechanical Engineering
Faculty of Engineering Science
Joined UCL

15th Jan 2006
Research summary
Gaetano's research activity of covers many disciplines, often combined, which include experimental and numerical stress analysis, non conventional materials and bioengineering.
In recent years, driven by the escalating need for a more sustainable new generation healthcare, Gaetano has focused his activity in the definition of transformative healthcare treatments, by applying his research on novel material technologies, smart structures and advanced engineering approaches to the medical device area. In collaboration with major biomedical industries, he has led the development of novel therapeutic technologies that are now widely adopted.
These include new families of semi-rigid annuloplasty rings for mitral repair based on super-elastic alloys and auxetic designs, that allow more physiological operative dynamics; new generation of sutureless artificial heart valves that allow significant reduction in cross-clamping time during surgery; new valve solutions based on the use of nano-composite polymers; collapsible prosthetic valves implantable without surgery and fully repositionable in case of misplacement (few of these implants are already on the market), and genetically modified xenograft tissue (with the UCL Institute of Cardiovascular Science).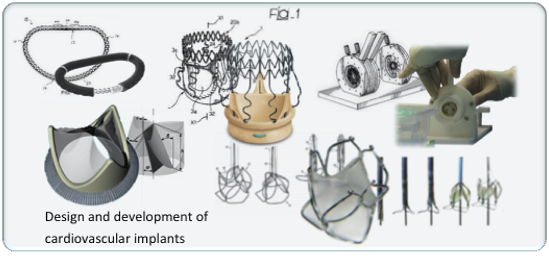 This activity embraces basic and applied research on materials characterisation, fatigue behaviour, durability within hostile environments, physiological systems simulation, as well as the implementation of structural design optimisation procedures and the solution of new problems related with assessment.

The laboratories coordinated by Prof Burriesci are equipped with advanced facilities for the treatment and testing of biomaterials, and state-of-the-art testing devices for the assessment of the hydrodynamic and durability performances of cardiovascular prostheses.


Teaching summary
Gaetano Burriesci lectures and coordinates the MSc course of Biofluids & Medical Devices, and the undergraduate course of Mechanics of Solids & Structures:
MECHANICS OF SOLIDS & STRUCTURES
Course Director: Prof G Burriesci
Mandatory for all 2nd year BEng and MEng students in Mechanical Engineering.
With this course students learn to analyse the mechanical response of structures to external loads, gaining the ability to predict and prevent the typical forms of structural failure in common engineering components.
BIOFLUIDS & MEDICAL DEVICES
Course Director: Prof R Torii
Mandatory module in the MSc in Biomaterials and Tissue Engineering.
The aim of this course is to apply the basic principles of fluid mechanics to the scientific understanding and modelling of fluid flows in physiological systems. The first part of the module provides an introduction to fluid mechanics and its application to physiological models, to the rheological properties of blood, and an insight of the cardiovascular system and its modelling. The second part of the module aims at analysing the interaction between physiological flows and artificial systems, identifying the most important parameters to control in the design of medical devices.
Education
Universita degli Studi di Palermo

Doctorate, Dottorato di Ricerca | 2000

Universita degli Studi di Palermo

First Degree, Laurea | 1996

To be updated

Other Postgraduate qualification (including professional), Diploma | 1989
Biography
Prof Gaetano Burriesci studied Mechanical Engineering at the University of Palermo (Italy), where he was awarded his MEng degree with first class honours (and a national prize for the best project in Experimental Mechanics) and gained his Doctorate in design and structural optimisation of artificial heart valves. He then was appointed Research Associate in the Department of Mechanical Engineering at the University of Sheffield, where he performed research activity in the field of biomechanics and collaborated with AorTech International Plc. in the development of an innovative synthetic leaflets heart valve. Subsequently, he joined SorinGroup SpA, which is an international company operating worldwide in the field of high-technology bioengineering for implantable medical devices, working as a Research Manager in the development and qualification of innovative cardiovascular devices. Gaetano joined the Department as a Lecturer in 2006.