dr gaetano burriesci
Contacts
Dr
Gaetano
Burriesci
Dr Gaetano Burriesci
Tel: 020 7679 3922
Ex: 33922
Fax: 020 73880180
https://iris.ucl.ac.uk/iris/extResource/image/01/GBURR49
2006-01-15
Address
581
Department of Mechanical Engineering
UCL Department of Mechanical Engineering
Torrington Place
London
WC1E 7JE
Appointment
ACARDR
2006-01-15
1
Reader in Biomedical Engineering
ED
Dept of Mechanical Engineering
ENG
Faculty of Engineering Science
Research Summary
Gaetano's research activity of covers many disciplines, often combined, which include experimental and numerical stress analysis, non conventional materials and bioengineering.
In recent years, driven by the escalating need for a more sustainable new generation healthcare, Gaetano has focused his activity in the definition of transformative healthcare treatments, by applying his research on novel material technologies, smart structures and advanced engineering approaches to the medical device area. In collaboration with major biomedical industries, he has led the development of novel therapeutic technologies that are now widely adopted.
These include new families of semi-rigid annuloplasty rings for mitral repair based on super-elastic alloys and auxetic designs, that allow more physiological operative dynamics; new generation of sutureless artificial heart valves that allow significant reduction in cross-clamping time during surgery; new valve solutions based on the use of nano-composite polymers; collapsible prosthetic valves implantable without surgery and fully repositionable in case of misplacement (few of these implants are already on the market), and tissue in situ regeneration (with the UCL Centre of Gastroenterology and Nutrition).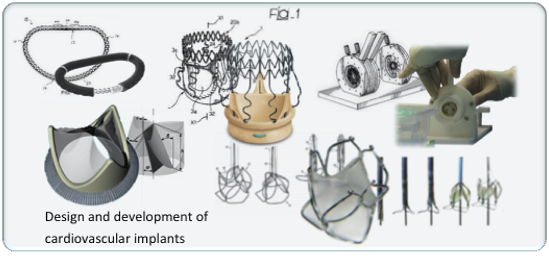 This activity embraces basic and applied research on materials characterisation, fatigue behaviour, durability within hostile environments, physiological systems simulation, as well as the implementation of structural design optimisation procedures and the solution of new problems related with assessment.

The laboratories coordinated by Dr Burriesci are equipped with advanced facilities for the treatment and testing of biomaterials, and state-of-the-art testing devices for the assessment of the hydrodynamic and durability performances of cardiovascular prostheses.


Research Activities
163
Assessment of Cardiovascular Prostheses
8627
Characterisation of Biomaterials
162
Design of Artificial Heart Valves
6207
Development of Genetically Modified Biological Heart Valves for Improved Durability
6202
Development of Rapid Prototypes for Muscle Augmentation Using Magnetic Augmentation
8620
Development of a Percutaneus Mitral Valve Device
8624
Endovascular Device to Occlude Paravalvular Leakage
8625
Heart Valve Hemodynamics by Means of PIV Analysis
8621
Joining Technologies for Cardiovascular Implants
8626
Mitral Valve Simulation
8622
Polymeric Heart Valve
8623
Smart Structures in Biomedical Applications
161
Transcatheter Aortic Valve
Academic Background
Award Year

Qualification

Institution

2000

PhD

Dottorato di Ricerca

Universita degli Studi di Palermo

1996

LAU

Laurea

Universita degli Studi di Palermo

1989

Dip.

Diploma

To be updated
Biography
Dr Gaetano Burriesci studied Mechanical Engineering at the University of Palermo (Italy), where he was awarded his MEng degree with first class honours (and a national prize for the best project in Experimental Mechanics) and gained his Doctorate in design and structural optimisation of artificial heart valves. He then was appointed Research Associate in the Department of Mechanical Engineering at the University of Sheffield, where he performed research activity in the field of biomechanics and collaborated with AorTech International Plc. in the development of an innovative synthetic leaflets heart valve. Subsequently, he joined SorinGroup SpA, which is an international company operating worldwide in the field of high-technology bioengineering for implantable medical devices, working as a Research Manager in the development and qualification of innovative cardiovascular devices. Gaetano joined the Department as a Lecturer in 2006.
Collaborators
QAPAN40
prof quentin pankhurst
CMCGR95
prof christopher mcgregor
BRAHM04
dr benyamin rahmani
GWBYR57
dr gerry byrne
ADUCC64
dr andrea ducci
RDAYX34
dr richard day
AVEMM74
dr anton emmanuel
External Collaborators
3023
Dr Rose Sheridan
3028
Prof Jay Humphrey
3031
Dr Francesca Maria Susin
3038
Mr Jake Salmon
3026
Miss Georgia Preston-Maher
3027
Prof George Tellides
3033
Dr Antonis Pantazis
3037
Miss Georgia Preston-Maher
3036
Dr Kevin Lau
1684
Dr Michael Mullen
3030
Dr Paolo Peruzzo
3032
Mr Francesco Pirisi
3024
Dr Tim Fishlock
1685
Mr John Yap
3029
Dr Andrea Colli
3034
Dr Mun Hong Cheang
3035
Dr Morten ØJ Jensen