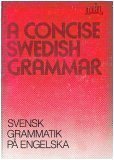 A Concise Swedish Grammar
Ake Viberg, Kerstin Ballardini & Sune Stjarnlof , , 1984
A Concise Swedish Grammar differs from ordinary grammars in that it shows, step by step, how the language is constructed; thus it provides a built-in progressive study course. Another important feature is that basic grammar terms are explained briefly before they are used. The grammar covers clause and sentence construction, word forms, pronunciation and spelling, and examples of the formation of words.
9-127-50252-X
1892

2

copies
A1 A2 B1 B2 C1 C2
---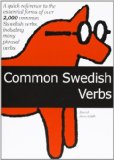 Common Swedish Verbs
David Hensleigh , plugghast books , 2001
This book helps students quickly find the correct conjugation and meaning to more than 2000 Swedish verbs. This book helps you understand the rules for the four regular verb groups, and lists the irregular ones. This book also includes many slang, regional and phrasal verbs.
9789197422000
107250

1

copies
A1 A2 B1 B2 C1 C2
---
---
Swedish: A Comprehensive Grammar
Philip Holmes & Ian Hinchliffe , Routledge , 1994
A complete reference guide to modern Swedish grammar. It presents a fresh and accessible description of the language, concentrating on the true patterns of use in modern Swedish. Features include a detailed treatment of the common grammatical patterns and parts of speech; full use of authentic examples; particular attention to areas of confusion and difficulty; and the highlighting of contrasts between Swedish and English throughout.
0415-0828-0
1685

1

copies
A1 A2 B1 B2 C1 C2
---