BBC
Aleks examines social networks and asks how they're changing our relationships.
Computer Science
---
BBC
An award-winning portrait of Josh Harris, one of the internet's earliest visionaries and the man behind a bizarre psychological experiment that prefigured Big Brother.
Computer Science
---
Channel Four
Theoretical physicist and futurist Michio Kaku shows how, in the 21st century, artificial intelligence is going to become as ubiquitous as electricity, how robots with human-level intelligence may finally become a reality, and how we'll even be able to merge our minds with machine intelligence. As the challenges and choices are literally mind-bending, Dr Kaku asks how far we will ultimately go.
Computer Science
---
UPCSE
0-201-31005-8
1415

1

copies
---
0-130-34151-7
772

1

copies
---
1-565-92487-8
773

1

copies
---
Vocabulary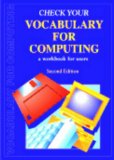 Check Your Vocabulary for Computing - A Workbook for Users - Second Edition
David Riley , Peter Collin Publishing Ltd , 1999
This workbook provides material to learn English with computing vocabulary. There are tests, which will improve vocabulary with crosswords, word games and puzzles. There are also self-study exercises and practical speaking activities for classroom use.
Computer Science
1-901-65928-3
2413

1

copies
B2 C1
---