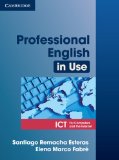 Professional English in Use - ICT
Santiago Remacha Esteras , Cambridge University Press , 2007
Professional English in Use ICT is suitable for intermediate to advanced level learners of English. The book covers a wide range of topics on Information Communications Technology including word processing, financial software and databases, multimedia applications, email, web design and Internet security.
Computer Science
0-521-68543-6
5939

1

copies
B1 B2 C1
---
Lectures
---
---
---
---
---
---
Radio Recordings
Melvyn Bragg
Melvyn Bragg and guests discuss artificial intelligence. Can we create a machine that creates?
Computer Science
---
Melvyn Bragg
With Charles Leadbeater, Demos Research Associate and author of Living On Thin Air: The New Economy; Ian Angell, Professor of Information Systems, London School of Economics and author of The New Barbarian Manifesto: How to Survive the Information Age.
Computer Science
---
Richard Hollingham
What is being done to stop more data being lost in the future, now that we've all gone digital: from an Internet Archive, to the preservation of government emails, and from concrete bunkers for nitrate films to a unique newspaper repository. For example, the US national archives have to make sure they keep all federal government emails. The Clinton White House alone produced 32 million emails, while those of his administration as a whole run into billions. President Clinton himself only ever wrote one email while in office. Who to? Richard Hollingham can reveal all....
Computer Science
---
Richard Hollingham
A timely investigation into the loss of cultural, public and historical records, both analogue and digital, as a result of deterioration or advances in technology. Richard Hollingham investigates specific examples of what is now unplayable or unreadable. For example, he can reveal for the first time, that the UK population census data from 1951 are lost, as are significant parts of the 1961 and 1971 census data. And he hears from the long-term percussionist of The Grateful Dead, Mickey Hart, why the Grateful Dead, unlike other leading touring bands, still have all their master tapes intact. He also finds out about successful efforts on both sides of the Atlantic for preserving and recuperating sound and music.
Computer Science
---
Special Interest
0-521-65720-2
2547

1

copies
B1 B2 C1
---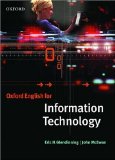 Oxford English for Information Technology
Eric H. Glendinning & John McEwan , Oxford University Press , 2002
This course is designed for people studying Information Technology and Computing, or working in the IT sector. It is suitable for use in universities, technical schools and adult education programmes with intermediate to advanced level students who want to improve and extend their language skills in the context of IT.
Computer Science
0194573753
106508

1

copies
B1 B2 C1 C2
---
0-521-57475-7
1082

1

copies
C1 C2
---
TV Documentaries
Charles Miller
In a special one-hour edition of the Money Programme, Fiona Bruce presents the definitive profile of Bill Gates as he embarks on his latest challenge - giving away the billions he has amassed, through the charitable foundation he runs with his wife and his father.
Computer Science
---
BBC
Exploring the murky and fast-paced world of the hackers out to steal money and identities and wreak havoc with people's online lives, and the scientists who are joining forces to help defeat them.
Computer Science
---
BBC
Horizon meets the people at the forefront of the data revolution, and reveals the possibilities and the promise of the age of big data.
Computer Science
---
BBC
Marcus Du Sautoy wants to find out how close we are to creating machines that can think like us: robots or computers that have artificial intelligence.
Computer Science
---
BBC
As Facebook heads for its 100 billion dollar flotation, Emily Maitlis updates her recent documentary on the prospects for Mark Zuckerberg's social network phenomenon.
Computer Science
---
BBC 2
In just seven years, Mark Zuckerberg has gone from his Harvard college dorm to running a business with 800 million users, and a possible value of $100 billion. His idea to 'make the world more open and connected' has sparked a revolution in communication, and now looks set to have a huge impact on business too.
Computer Science
---
BBC
As pester power kicks in and the computer games' industry launches its latest products on to the Christmas market, Panorama hears from youngsters who've dropped out of school and university to play games for anything up to 21 hours a day. They describe their obsessive gaming as an addiction. Reporter Raphael Rowe, meets leading experts calling for more independent research into this controversial subject, and reveals the hidden psychological devices in games that are designed to keep us coming back for more.
Computer Science
---
BBC
Documentary telling the story of silicon chip inventor Robert Noyce, godfather of today's digital world.
Computer Science
---
BBC 2
Broadly considered a brand that inspires fervour and defines cool consumerism, Apple has become one of the biggest corporations in the world, fuelled by game-changing products that tap into modern desires.
Computer Science
---
Channel 4
The story of Steve Jobs, featuring a rare interview and providing a unique insight into what made him tick.
Computer Science
---
Ben Lewis
Storyville: Documentary which tells the story of the most ambitious project ever conceived on the internet and the people who tried to stop it. In 1937 HG Wells predicted the creation of the 'world brain', a giant global library that contained all human knowledge which would lead to a new form of higher intelligence.
Computer Science
---
Simon Klose
Storyville: Documentary telling the story of The Pirate Bay, the world's largest file sharing site which facilitates downloading of copyrighted material. The film follows the three Swedish founders of The Pirate Bay through their trial after they are taken to court by Hollywood and the entertainment industry, accused of breaking copyright law. Seeing themselves as technicians whose aim is to run the world's largest web platform, in scenes bordering on the absurdly comedic they claim that their actions are about freedom and not money.
Computer Science
---
BBC
A sharp, witty, mind-expanding and exuberant foray into the world of logic with computer scientist Professor Dave Cliff. Following in the footsteps of the award-winning 'The Joy of Stats' and its sequel, 'Tails You Win - The Science of Chance', this film takes viewers on a new rollercoaster ride through philosophy, maths, science and technology- all of which, under the bonnet, run on logic.
Computer Science
---
BBC
Virtual Revolution charts two decades of profound change since the invention of the World Wide Web, weighing up the huge benefits and the unforeseen downsides. Aleks Krotoski charts the extraordinary rise of blogs, Wikipedia, and YouTube.
Computer Science
---
BBC
Dr Aleks Krotoski charts how the Web is forging a new brand of politics.
Computer Science
---
BBC
Dr Aleks Krotoski gives the lowdown on how commerce has colonised the web.
Computer Science
---