BBC 2
This final episode tells the story of how yoghurt has been transformed from an unknown hippy food into a super food in 40 years. Along the way, yoghurt has driven a health revolution in the modern food business.
Business & Management
---
BBC
In the teeth of the worst financial crisis in living memory, BBC business editor Robert Peston examines how the world got to this point and how the collossal imbalances in the global economy have left the UK in need of a radical economic overhaul.
Business & Management
---
BBC
In the second of two programmes Peston asks how Britain can compete in the new world economic order. After years of living beyond our means the country surely needs to wean itself off the consumer society, but doing so threatens our retail dependent economy.
Business & Management
---
Vocabulary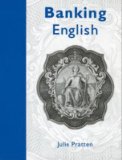 Banking English
Julie Pratten , Delta Publishing Ltd , 1997
This book provides vocabulary practice in a wide range of banking and related topics. Through a variety of stimulating activities and exercises students are helped to understand and use over 750 financial terms and expressions used in the world of international banking; This book can be used in class or by students working on their own, as a full answer key is given at the back of the book. There is also an extensive glossary, which explains the meaning of over 200 language items including specialist terminology, abbreviations and idiomatic expressions.
Business & Management
1-900-78321-5
415

1

copies
C1 C2
---