BBC
Spring arrives in the polar regions, and the sun appears after an absence of five months; warmth and life return to these magical ice worlds - the greatest seasonal transformation on our planet is underway.
Natural World
---
BBC
Polar animals race to rear their young during times of plenty under the midnight sun.
Natural World
---
BBC
The Arctic is the harshest environment on Earth: little food grows, it's dark for months on end, and temperatures stay well below freezing for much of the year. Yet four million people manage to survive here.
Natural World
---
BBC
A look at the one environment that's been made by us for us - the city. Over half of the world's population now lives in the urban jungle. The city is built to keep untamed nature out - but nature can't be pushed away. From bed bugs sucking our blood at night to rats in our restaurants, many animals have adapted to a life with us.
Natural World
---
BBC
In the second episode of Human Planet, we discover how the eternal quest for water brings huge challenges - and ingenious solutions - in the driest places on Earth.
Natural World
---
BBC
Grasslands feed the world. Over thousands of years, we humans have learned to grow grains on the grasslands and domesticate the creatures that live there. Our success has propelled our population to almost seven billion people.
Natural World
---
BBC
The rainforest is home to more species of plants and animals than any other habitat on the planet. But for humans, life there is not as easy as it looks. Life in the trees requires great skill, ingenuity and sheer bravery.
Natural World
---
BBC
From lush cloud forests to bare summits that take your breath away, the higher you climb the tougher life gets on a mountain. Human Planet explores the extraordinary ways in which people survive at extreme altitudes where nature becomes utterly unforgiving.
Natural World
---
BBC
As an air-breathing animal, the human is not built to survive in water. But people have found ways to live an almost aquatic life so they can exploit the sea's riches. From a 'shark-whisperer' in the Pacific to Brazilian fishermen collaborating with dolphins to catch mullet, this journey into the blue reveals astonishing tales of ingenuity and bravery.
Natural World
---
BBC
Ragnar Axelsson, known as Rax, is a photograher for Iceland's largest newspaper. This documentary follows him on his life's mission, to capture the human faces of climate change by photographing the vanishing lifestyles of the people of the north.
Natural World
---
Natural World
BBC
BBC Two's flagship natural history series returns with more gripping stories, pressing conservation issues and breathtaking action.
TV-Recordings%%%Natural World
---
BBC
In Africa, a family of chimps trapped in a lost world face a daily ... In a twist of fate, the last babies born into the gorge family have all been males. …
British-Sign-Language%%%Natural World
---
BBC
Pure white lemurs called silky sifaka live in the remote rainforests of Madagascar. They are one of the rarest animals in the world.
British-Sign-Language%%%Natural World
---
BBC
Every year grizzly bear families in North America depend for their survival on a spectacular natural event: the return of hundreds of millions of salmon from the Pacific Ocean to the mountain streams where they were born. The salmon travel thousands of miles to spawn and then die.
Natural World
---
BBC
Stephen Fry loves Louisiana. Four months after the BP oil spill, dubbed the worst ecological disaster in the history of America, Fry returns to the Deep South together with zoologist Mark Carwardine, to see what the impact has been on the people, the vast wetlands and the species that live there.
Natural World
---
BBC
How Yellowstone's Indian tribes were displaced to create this great American wilderness.
Natural World
---
Lectures
---
Radio Recordings
Gabrielle Walker
The final part of the series exploring how climate change is affecting the natural world.
Radio-Recordings%%%Geography%%%Environmental Studies
---
Special Interest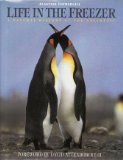 Life In The Freezer
Alistair Fothergill , BBC Books , 1993
"Life in the Freezer" is an exciting new natural history of the Antarctic. Less celebrated than its northern equivalent, it boasts an equal blend of extraordinary wildlife and stunning scenery. In this book, Alastair Fothergill traces the region's seasonal cycle and explains how marine, mammal, bird and plant life survive in one of the harshest climates on earth
Natural World
0-563-36431-9
2557

1

copies
C1 C2
---
TV Documentaries
BBC 1
David Attenborough takes a breathtaking journey through the vast and diverse continent of Africa as it has never been seen before.
Natural World
---
BBC
East Africa is a land which is constantly changing. To survive here, creatures must be able to deal with unpredictable twists and turns - wet turning to dry, feast to famine, cold to hot - no matter how hostile it becomes
Natural World
---
BBC
The very heart of Africa is covered in dense tropical rainforest. The animals that live here find the most ingenious ways to carve out their space in a claustrophobic landscape.
Natural World
---
BBC
Southern Africa is a riot of life and colour because of two great ocean currents that sweep around the continent\'s Cape.
Natural World
---
BBC
Northern Africa is home to the greatest desert on Earth, the Sahara. On the fringes, huge zebras battle over dwindling resources and naked mole rats avoid the heat by living a bizarre underground existence. Within the desert, where the sand dunes \\\'sing\\\', camels seek out water with the help of their herders and tiny swallows navigate across thousands of square miles to find a solitary oasis.
Natural World
---
BBC
David Attenborough comes face-to-face with a baby rhino and asks what the future holds for this little one. He meets the local people who are standing side-by-side with the wildlife at this pivotal moment in their history. We discover what it takes to save a species, hold back a desert and even resurrect an entire wilderness - revealing what the world was like before modern man.
Natural World
---
BBC
David Attenborough explores just how far climate change is altering our planet, from drought-stricken rainforest to declining polar bears, from flooded homes to bleached coral. He searches for the evidence that it is our daily activities which are radically changing the climate, leaving the future of Earth largely up to us.
Natural World
---
BBC
Sir David Attenborough gives his unique perspective on over half a century of innovation in wildlife filmmaking - developments that have brought ever more breathtaking and intimate images of wildlife to our television screens, changing our view of life on the planet forever.
Natural World
---
BBC
David Attenborough reviews the most exciting scientific discoveries that have transformed our view of life on earth during his lifetime. How and where did life first begin? How do continents move? How do animals communicate? And why do they behave the way they do?
TV-Recordings%%%Natural World
---
BBC
Sir David Attenborough reflects on the dramatic impact that humankind has had on the natural world within his own lifetime. He tells the surprising and deeply personal story of the changes he has seen, of the pioneering conservationists with who he has worked - and of the global revolution in attitudes towards nature that has taken place within the last six decades.
TV-Recordings%%%Natural World
---
BBC
In the first programme of the series, the team uncovers the world of the giants that reside in and on our western seas.
Natural World
---