Channel 4
The story of a Mumbai slum school choir who perform a concert at the city's prestigious National Centre for the Performing Arts.
Art & Design
---
BBC
In this documentary, the presenter and art critic Matthew Collings explores how Turner, the artist of light, makes light the vehicle of feeling in his work, and how he found inspiration for that feeling in the waters of the River Thames.
Art & Design
---
UPCH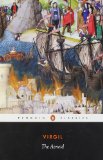 The Aeneid
Virgil , Penguin Books Ltd , 2003
Virgil's Aeneid, inspired by Homer and inspiration for Dante and Milton, is an immortal poem at the heart of Western life and culture. Virgil took as his hero Aeneas, legendary survivor of the fall of Troy and father of the Roman race, and in telling a story of dispossession and defeat, love and war, he portrayed human life in all its nobility and suffering.
Art & Design
0-140-44932-7
7721

1

copies
---