9789724737690
106866

2

copies
A1 A2
---
8-512-54702-2
5677

1

copies
A1 A2
---
9788512547008
8964

2

copies
---
8-512-54752-7
5678

1

copies
B1 B2
---
9788512547503
8965

2

copies
---
8-575-83063-5
5679

1

copies
A1 A2 B1
---
9788575830697
8966

1

copies
---
0-415-27441-8
4278

2

copies
A1 A2
---

Colloquial Portuguese of Brazil - The Complete Course for Beginners
Esmenia Simões Osbourne, João Sampaio & Barbara McIntyre , Routledge , 1997
Specially written by an experienced teacher for self-study or class use, the course offers a step-by-step approach to written and spoken Brazilian Portuguese
0-415-27679-5
4279

2

copies
A1 A2
---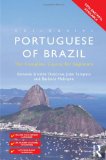 Colloquial Portuguese of Brazil 2 - The Next Step in Language Learning
Esmenia Simões Osbourne & Barbara McIntyre , Routledge , 2008
Colloquial Portuguese of Brazil 2 is designed to help those involved in self-study; structured to give you the opportunity to listen to and read lots of modern, everyday Brazilian Portuguese.
0-415-43097-5
7505

2

copies
---
9-727-57137-9
5673

1

copies
A2 B1
---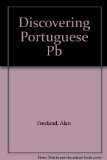 Discovering Portuguese
, , 1987
Accompanying the BBC television series, this is a course for the beginner who wants to develop basic skills in speaking and understanding the language. Throughout the course, you are encouraged to notice how Portuguese works, so that you can gradually progress from being taught to becoming an independent learner, able to extend your skills further by listening to people and by reading. The book also offers an insight into the people, life and culture of portugal.
0-563-21345-0
1079

2

copies
A1
---
---
8-512-54310-8
6036

1

copies
A1 A2 B1 B2
---
8-512-54322-1
5680

1

copies
A1 A2 B1 B2
---
8-571-13082-1
6038

1

copies
---
9-727-57172-7
5675

1

copies
A1 A2
---
9-727-57173-5
5676

1

copies
B1 B2
---
---
---
9788512545202
112440

1

copies
A1
---
9788512545707
112443

1

copies
A2
---
9788512546100
112446

1

copies
B1
---
9788512545905
112437

1

copies
A2
---
9-724-10774-4
6037

1

copies
A1 A2 B1 B2
---
9-727-57086-0
5681

3

copies
A1 A2
---
9-729-01813-8
5682

2

copies
B1 B2
---
8-512-54300-0
5674

1

copies
C1 C2
---