112428

1

copies
A1 A2 B1 B2
---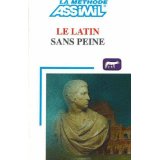 Le latin sans peine
Clément Desessard , Assimil , 2005
One of the most efficient self-study methods available, with extensive recordings of the material, which are essential for the success of the course. This course aims at providing students with a basic grasp of the Latin language, both written and spoken. It presents the most important words and expressions likely to be needed, and provides key vocabulary together with basic language patterns that can be adapted to most situations. A brief explanation of essential grammar and useful information sections are also included.
2-700-50021-0
372

1

copies
A1 A2 B1 B2
---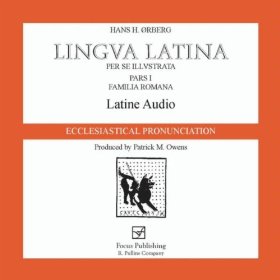 Lingua Latina per se illustrata - Pars I: Familia Romana
Hans H. Ørberg , Focus Publishing , 2005
Probably the best Latin method available, already well known throughout the rest of Europe and slowly making an impression in the UK. The course, an outstanding example of the Direct Method advocated in Britain by W.H.D. Rouse, is written entirely in Latin and aims at providing students with a fluent reading ability in the language so that they can enjoy Latin literature in the original with real understanding and appreciation and without being constantly enslaved to dictionaries and grammar books. This first volume covers the essentials of Latin grammar and a basic vocabulary of some 1500 words. Each lesson is divided into a reading section forming a sequence of events in the life of a Roman family in the 2nd century A.D., followed by grammar and exercises. At the end of the book there is a survey of Latin inflection, a Roman calendar, and an index of the vocabulary. There is an accompanying CD-ROM containing the complete text of the book, audio-recordings of the first 30 lessons, and a full interactive edition of the exercises.
1-585-10201-3
7602

1

copies
---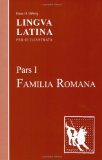 Lingva Latina Per Se Illustrata - Familia Romana - Pars 1
Hans H. Orberg , Focus Publishing/ R. Pulling Company , 2005
This is the Focus edition of Lingua Latina, the outstanding international book by Hans Orberg which uses the Natural Method to provide an introduction to the Latin language. This edition is identical to the most current edition published in Denmark and is the version available for sale in North America, South Africa, Australia and New Zealand and other English speaking countries throughout the world.
9781585102013
8042

1

copies
---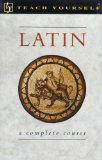 Teach Yourself Latin
Gavin Betts , , 1986
A comprehensive introduction, enriched with authentic Latin poetry and prose, to help the beginner to approach Latin reading and translation with confidence. This clearly structured course progresses in easily assimilated stages and assumes no prior knowledge of Latin or grammatical terms.
340384816
1233

1

copies
A1 A2 B1
---