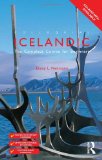 Colloquial Icelandic
Daisy L. Neijmann , Routledge , 2001
Written by an experienced language teacher, this course offers a step-by-step approach to written and spoken Icelandic. No previous knowledge of the language is required. Features include a pronunciation guide, lively dialogues, concise grammar explanations, lots of exercises with a full answer key, and English-Icelandic and Icelandic-English glossaries.
0-415-20706-1
3777

1

copies
A1 A2
---
9789979013709
9179

1

copies
---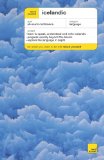 Teach Yourself Icelandic
Hildur Jónsdóttir , Teach Yourself: 2 edition , 2004
Teach Yourself Icelandic starts with the basics but moves at a lively pace to give you a good level of understanding and speaking. You will have lots of opportunity to practise the kind of language you will need to be able to communicate with confidence and understand the culture of speakers of Icelandic.
0-340-85663-7
3776

1

copies
A1 A2 B1
---