Oi stereotypes ekfraseis kai i didaktiki tis neas ellinikis os deuteris glossas ( The Stereotyped Expressions and Teaching Of the Modern Greek as a Second Language)
Anastasiadis-Symeonidis, A. et al. , Patakis , 2006
The purposes of the study are the stereotyped expressions of modern Greek and what's the better way of teaching them to the foreign students. The authors propose building and communication exercises.
108000

1

copies
A1 A2 B1 B2 C1
---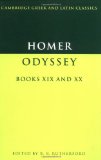 The Odyssey - books 19-20
Homer , Cambridge University Press , 1992
The Odyssey, besides being one of the world's first and finest adventure stories, is a poem of great subtlety, rich in irony and sophisticated characterisation. The poet's art is amply illustrated by books 19 and 20, in which Odysseus, disguised as a beggar, spends the night at his own palace and lays plans for his awesome revenge. In Ancient Greek and English with translation notes.
0-521-34760-2
2231

1

copies
---