A German Reader - Music in the Making
John Martin & Sigrid Martin-Wünscher , Hugo , 1994
Some forty contemporary reviews of great works of music from Bach to Weber. Detailed annotations in English and lists of key vocabulary to facilitate comprehension. For reasonably advanced students of German with an interest in music. 1994.
0-852-85215-0
310

1

copies
C1 C2
---
3-794-17025-3
5315

1

copies
B1 B2
---
3-770-40008-9
2569

1

copies
B1 B2 C1
---
---

Carsten Curator; Der Herr Etatsrat
Theodor Storm , Greifenverlag zu Rudolstadt , 1985
Two of Storm's darker novellas, which tell with typical intensity of life in late 19th century north Germany: Carsten Curator: Heinrich is a constant drain on his father Carsten; losing one job after another either by imprudence or dishonesty. Marriage looks as though it may turn his life around, but drink and fickleness ruin him. In a terrible storm he comes to ask Carsten to save him from bankruptcy. When this is refused, Heinrich, the worse for drink, launches out in a small boat into the rising floods, is carried away by the swift water and drowned. Der Herr Etatsrat: Dyke administrator Sternow is a clever but a completely amoral man who spends his evenings. His two children are utterly neglected. The son, Archimedes, is a good mathematician: he works, but also drinks, undermines his health and dies of a fever. Phia, the daughter, leads an utterly solitary life. Sternow's scheming servant Käfer takes advantage of the lonely girl who dies in giving birth to a dead child.
---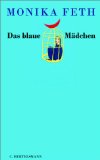 Das Blaue Mädchen
Monika Feth , , 2001
"I mustn't doubt", 17-year old Jana tells her diary, despite inwardly already having detached herself from the secretive sect she belongs to. Then she falls in love with Marlon, a boy from the village. But all contact with the outside world is strictly forbidden for the "Children of the Moon", and Jana has to make a difficult choice between blind obedience, ignoring her feelings, or a perilous escape. German teen fiction at it's best.
3-570-12636-6
5312

1

copies
B1 B2
---
---
3-581-66970-6
1765

1

copies
C1 C2
---
0-423-82700-6
641

2

copies
B2 C1 C2
---
9783257230451
104256

1

copies
---
3-794-17039-3
5306

1

copies
B1 B2
---
0-340-24994-3
2139

1

copies
B1 B2 C1 C2
---
0-850-48525-8
2588

1

copies
B1 B2 C1 C2
---
Der rote Hahn. Lektüre und CD: Ein heißer Fall für Carsten Tsara. Krimi. Deutsch als Fremdsprache. Niveaustufe B1
Franz Specht , Hueber Verlag Gmbh & Co K
A new series of stories for the students at the basic level. Each issue contains a list of difficult words with explanations in German and efficiency of exercises to develop reading comprehension.
9783190216680
108312

1

copies
B1
---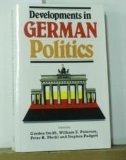 Developments in German Politics
Gordon Smith (Ed.) et.al. , Macmillan , 1992
In English. Relevant to anyone interested in German politics and history. Focusses in detail on the reunification process and the political inplications, and assesses Germany's role in Europe in the early 1990s. 390 pp. 1992
0-333-56757-9
56

1

copies
A1 A2 B1 B2 C1 C2
---
3-770-11655-0
914

1

copies
C1 C2
---
3-596-13493-5
922

1

copies
B2 C1 C2
---
3-570-20740-4
5305

1

copies
B1 B2
---

Die Maske der Verräter
Ulrike Schweikert , , 2007
Jos Zeuner dreams of becoming a blacksmith and his girlfriend Sara dreams of getting married. Together they move to Würzburg. But when Jos eavesdrops on three mysterious men plotting a murder, he decides to try to warn the intended victim ... A crime novel in three parts set in 15th century Würzburg and based on real events.
3-570-12967-8
5304

1

copies
B1 B2
---
3-596-13392-0
708

1

copies
B2 C1 C2
---
3-596-13492-7
709

1

copies
B2 C1 C2
---
0-850-48626-2
2115

1

copies
B2 C1 C2
---
0-850-48364-6
2587

1

copies
B1
---
3-87024-514-X
101258

1

copies
B2 C1 C2
---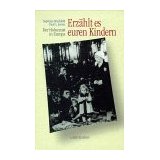 Erzählt es euren Kindern - Der Holocaust in Europa
Stéphane Bruchfeld & Paul A. levine , , 2000
This book describes what human beings are capable of doing to other human beings when democratic values have been destroyed and replaced by an ideology advocating intolerance, hate and violence. The book presents facts about the Holocaust and attempts to explain how the unimaginable became reality.
3-570-12531-9
5307

1

copies
B1 B2
---
8-742-97726-6
356

1

copies
B2 C1
---
3-88199-866-7
101252

1

copies
C2
---
3-936-23810-3
1698

1

copies
A1 A2 B1 B2 C1 C2
---