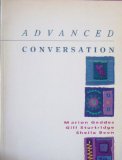 Advanced Conversation
Marion Geddes & Gill Sturtridge , Macmillan , 1991
This text contains six units, each divided into two parts: opportunities to communicate, and opportunities to improve pronunciation. The book builds on the learner's present levels of accuracy and fluency and provides practice in reading aloud and interpreting L1 and L2. Practice is given in skills not usually dealt with systematically such as speaking in stressful situations.
0-333-54303-3
5763

1

copies
C1 C2
---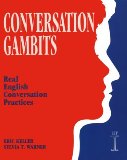 Conversation Gambits - Real English Conversation Practices
Keller, E. , Language Teaching Publications , 1988
Designed to be used on its own as a conversation course, or as a teaching resource, this book contains over 60 different activities to teach the language of conversation and discussion. Real English conversation practices provide immediately useful language.
74.1
0-906-71759-0
5762

1

copies
---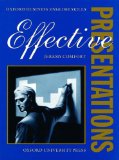 Effective Presentations
Comfort, J. , Oxford University Press , 1995
An integrated video-and-book course to deal thoroughly with both the language and the wider skills needed to give an effective presentation. * Teaches by example, demonstrating both bad and good ways of givivng a presentation * Classwork (to develop skills and language) provided in the Student's Book * Presentations are analysed stage by stage * Course may also be used a self-study material
75.0
0-194-57065-7
7371

2

copies
---
978-1859644836
8869

1

copies
B2 C1 C2
---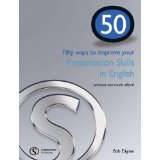 Fifty Ways to Improve Your Presentation Skills in English
Bob Dignen , Summertown Publishing , 2007
"50 Ways to Improve your Presentation Skills in English"...without too much effort provides a range of quick an easy ways to improve your presentation skills. 50 ways includes modules on planning, making a good start, using multimedia visuals and closing.
1-902-74186-4
5944

1

copies
B1 B2
---
0-521-28249-7
7375

1

copies
B2 C1
---
0-905-70392-8
7373

1

copies
B2 C1 C2
---
0-333-58945-9
5759

1

copies
B1 B2
---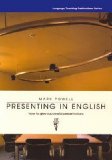 Presenting in English
Powell, M. , Language Teaching Publications , 1996
Resulting from research into what really makes presentations so successful, this book's approach combines the language and skills needed to give effective presentations. The book is aimed at intermediate to upper intermediate students and employs simple rhetorical techniques. It shows how to deliver complicated subject matter clearly and effectively and employs models for clarifying and dealing with questions. The skills training is step-by-step and the open format allows for personalized input.
1899396306
9720

2

copies
B2 C1
---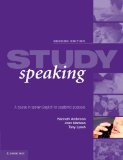 Study Speaking (2nd Ed)
Anderson, K.; Maclean, J. & Lynch, T. , Cambridge University Press , 2004
Study Speaking is for intermediate level and above students who need to speak English in connection with their academic work. It is intended primarily for use on language programmes preparing learners of English for study at university or college. Master CD available in LG11
76.0
0-521-53396-1
5758

2

copies
---
0-071-45229-X
5761

1

copies
B2 C1 C2
---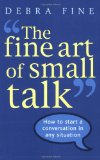 The Fine Art of Small Talk
Debra Fine , Judy Piatkus Publishers Ltd , 2005
Communication expert Debra Fine reveals the techniques and strategies anyone can use to make small talk - in any situation. Do you spend an abnormal amount of time hiding in the bathroom or hanging around the buffet table at social gatherings?
0-749-92674-0
5760

1

copies
B2 C1 C2
---
0-906-71746-9
7372

1

copies
---