9781905085514
104236

1

copies
---
No ISBN
7192

1

copies
B2 C1 C2
---
0-946-13998-9
670

1

copies
C1 C2
---
1-854-50047-3
39

1

copies
C1 C2
---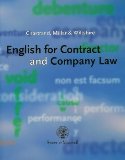 English for Contract and Company Law
Marcella Chartrand, Catherine Millar & Edward Wiltshire , Sweet & Maxwell , 1997
This book, aimed at students with an advanced level of English, is designed to provide the necessary background in specific legal English for those wishing to pursue their legal studies in English-speaking countries
Law
0-421-59740-2
2261

1

copies
C2
---
English for Law (Professional English Series)
Riley, A. , Macmillan
This book is designed to teach native speakers of other languages to understand the language of law in English. Through a wide variety of exercises, the reader will learn the reading, vocabulary and study skills necessary to work independently on legal materials of their own choice
Law
9780333493878
112879

4

copies
---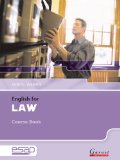 English for Law in Higher Education Studies:Course Book and Audio CDs
Jeremy Walenn , Garnet Publishing Ltd , 2008
English for Law is a skills-based course designed specificially for students of management studies who are about to enter English-medium tertiary level studies. (Please ask at Reception for CD)
Law
978-1859644171
8873

2

copies
B2 C1 C2
---
0-948-54901-7
37

1

copies
B1 B2 C1
---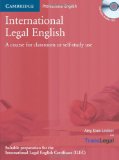 International Legal English
Amy Krois-Lindner & TransLegal , Cambridge University Press , 2006
This book is designed for learners who need to be able to use English in the legal profession. It is intended to prepare candidates for the International Legal English Certificate (ILEC) examination, but it can also be used for all legal English courses
Law
0-521-67517-0
2964

1

copies
C1 C2
---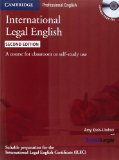 International Legal English Second Edn.
Amy Krois-Linder and Translegal , Cambridge University Press , 2011
"International Legal English" is the definitive course for learners who work or are preparing to work in the international legal community. Thoroughly revised and updated, the second edition of this best-selling course is suitable for classroom use or self-study and teaches language learners how to use English in a commercial law environment.
Law
9780521279451
105716

1

copies
B2 C1
---
0-582-32842-X
2501

1

copies
B1 B2 C1 C2
---
9781408220054
104722

1

copies
B1 B2 C1
---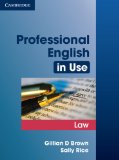 Professional English in Use - Law
Gillian D. Brown & Sally Rice , Cambridge University Press , 2007
Topics include corporate and commercial law, liability, contract law and intellectual property. The book also introduces general legal vocabulary related to legal systems, the legal professions and the skills lawyers need in their daily working lives. Primarily designed as a self-study reference and practice book, it can also be used for classroom work and one-to-one lessons.
Law
0-521-68542-9
5940

1

copies
B2 C1
---
0-582-46898-1
335

3

copies
B2 C1 C2
---
978-0-822143107
7867

1

copies
A1 A2
---
0946139954
1811

1

copies
C1 C2
---