9780521176842
103002
SAC

1

copies
---
521585430
101958
SAC

1

copies
---
0-435-28252-2
101856
SAC

1

copies
---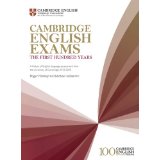 Cambridge English Exams - The First Hundred Years: A History of English Language Assessment from the University of Cambridge, 1913-2013
Roger A. Hawkey Michael Milanovic , Cambridge University Press , 2013
This book is a centenary volume to mark 100 years of Cambridge English exams. The volume chronicles the history of Cambridge ESOL, from the first administration of The Certificate of Proficiency of English in 1913, up to the present. It covers intertwining themes such as mission, exam range, constructs, content, theory and practice, research and validation, and also explores relationships with key countries, institutions, centres, staff and test-takers. Printed in full colour with an attractive layout, the volume includes many photographs and unique access to archival material and interviews with key stakeholders.
Testing
9781107634732
112185
SAC

1

copies
---
9780582746251
5050
SAC

1

copies
---
9780194422970
104510
SAC

1

copies
---
9788429450675
5521
SAC

6

copies
---
0-19-437138-7
101848
SAC

1

copies
---
9780521736701
106208
SAC

1

copies
---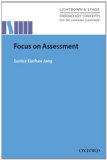 Focus on Assessment
Eunice Eunhee Jang , Oxford University Press , 2014
Features examples from real classroom practice and key research studies from a variety of classroom contexts Examines language frameworks and standards for assessment in school education Provides activities to help you relate research and theory to your teaching context
Testing
9780194000833
113388
SAC

2

copies
---
9780194372220
5045
SAC

2

copies
---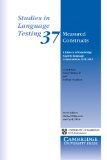 Measured Constructs: A History of Cambridge English Examinations, 1913-2012 (Studies in Language Testing)
Cyril J. Weir, Ivana Vidakovic Evelina D. Galaczi , Cambridge University Press , 2013
An addition to the Studies in Language Testing series, this volume provides an overview of English language testing over the last century, with coverage of key theoretical and practical aspects of the assessment of reading, listening, writing and speaking skills. It includes examples of the Cambridge English exams, old and new, and is the first volume to describe in a systematic way the different theoretical influences which have shaped the development of the constructs underlying Cambridge English exams in the last 100 years.
Testing
9781107677692
112152
SAC

1

copies
---
9780340984482
101964
SAC

1

copies
---
9939247234
104768
SAC

2

copies
---
9781906438807
104766
SAC

0

copies
---
9780521484954
9156
SAC

3

copies
---
9780521312769
5049
SAC

2

copies
---