8-750-02734-4
3667

5

copies
A1 A2 B1
---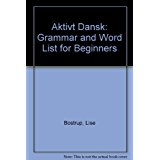 Aktivt Dansk - Grammar and Word List for Beginners
Lise Bostrup & Kim Andersen , Academic Press Copenhagen , 1991
Accompanying the textbook Aktivt Dansk, which provides a functional knowledge of the modern Danish language, this Grammar and Word List contains grammatical explanations for each of the 25 lessons of the textbook, as well as translating all of the words and key phrases from each chapter.
8-750-02966-5
3666

5

copies
A1 A2
---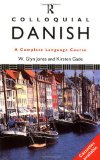 Colloquial Danish
W. Glyn Jones & Kirsten Gade , Routledge , 1993
A practical course in everyday written and spoken Danish requiring no prior knowledge of the language. The book is divided into 20 lessons which introduce you to a broad range of topics from health and leisure to politics and the media.
0-415-07966-7
3665

4

copies
A1 A2
---
0-415-30182-3
4282

1

copies
A1 A2
---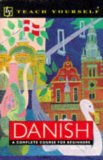 Danish - A Complete Course for Beginners
Bente Elsworth , Hodder & Stoughton Educational , 1994
This course in Danish is intended for absolute beginners and requires no knowledge of any foreign language. The aim of the book is to enable you to communicate in practical, everyday situations and to provide you with some background information about Denmark and the Danes. The course consists of 18 units with graded dialogues and exercises.
0-340-59666-X
3663

4

copies
A1 A2
---
8-712-02121-0
3668

7

copies
A1 A2 B1
---
8-712-02120-2
3669

8

copies
A1 A2 B1
---
8-712-02808-8
3670

1

copies
A1 A2
---
8-789-10605-9
3673

7

copies
A1
---
8-789-10606-7
3672

7

copies
B1
---
8-789-10616-4
3671

7

copies
C1
---
8-723-04855-7
3680

1

copies
B1 B2
---
8-723-04851-4
3679

1

copies
B1 B2
---