9780521484206
104912
SAC

1

copies
---
9780194340748
108769
SAC

1

copies
---
9789812430168
104916
SAC

1

copies
---
9780194307277
108785
SAC

1

copies
---
9780194306331
108787
SAC

1

copies
---
9780194307635
108783
SAC

1

copies
---
9780194304795
108773
SAC

1

copies
---
0-521-60061-8
111108
SAC

1

copies
A1 A2
---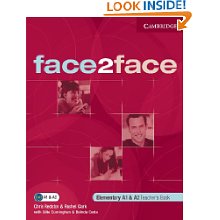 face2face Elementary Teacher's Book
Rachel Clark Belinda Cerda Chris Redston Gillie Cunningham , Cambridge University Press , 2005
The face2face Teacher's Book provides valuable and comprehensive support, from teaching notes for each lesson and useful classroom techniques to over 100 pages of extra teacher¿s resources (including 35 Class Activities, Photocopiables, 12 Vocabulary Plus Worksheets and 5 Study Skills worksheets).
978-0521613712
112314
SAC

1

copies
A1
---
9780521603355
108781
SAC

1

copies
---
---
9781405029407
108789
SAC

1

copies
---
9780582046634
101336
SAC

1

copies
---
9780582046634
101336
SAC

2

copies
---
0-194-35659-0
2056
SAC

1

copies
---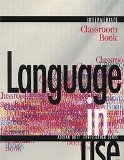 Language in Use Intermediate Classroom book
Doff, A. & Jones, C. , Cambridge University Press , 1994
A popular and highly acclaimed four-level course which both interests and stretches learners. Each of the four levels comprises about 80 hours of class work, with additional time for the self-study work. The Teacher?s Book contains all the pages from the Classroom Book, with interleaved teaching notes including optional activities to cater for different abilities. There is a video to accompany the Beginner, Pre-intermediate and Intermediate levels. Each video contains eight stimulating and entertaining short programmes, as well as a booklet of photocopiable activities. Free test material is available in booklet and web format for Beginner and Pre-intermediate levels. Visit www.cambridge.org/elt/liu or contact your local Cambridge University Press representative.
9780521435529
104914
SAC

1

copies
---
9780521435529
104914
SAC

1

copies
---
9781133315711
110505
SAC

1

copies
---
9781133315704
111105
SAC

1

copies
A2 B1
---
978-0194702232
112311
SAC

0

copies
B1 B2
---
9780194366700
108757
SAC

1

copies
---
9780194366717
108755
SAC

1

copies
---
9780194369367
108791
SAC

1

copies
---
0-582-25335-7
2292
SAC

1

copies
A2 B1
---
0-582-25336-5
1690
SAC

1

copies
A2 B1
---
9780582253384
108763
SAC

1

copies
---
9780435240240
101338
SAC

1

copies
---
9780435240202
108779
SAC

1

copies
---