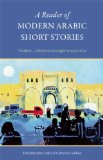 A Reader of Modern Arabic Short Stories
Sabry Hafez and Catherine Cobham , Saqi Books , 1988
Designed for the English-speaking student, this reader brings together the Arabic texts of eleven of the best modern Arabic short stories. Each is preceded by an introduction in English, containing biographical information about the author and a critical analysis designed to encourage the student to make a literary response to the story, rather than regarding it as an anthropological curiosity or a linguistic conundrum. Notes explain colloquial and idiomatic words and phrases which may cause difficulty.
0-863-56087-3
1265

1

copies
C1 C2
---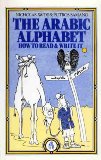 The Arabic Alphabet - How to Read & Write It
Micholas Awde and Putros Samano , McGraw Hill Companies, Inc , 1986
This book proceeds step by step through all the letters of the Arabic alphabet, showing the sounds they stand for and how they are combined into words. Nothing essential is left out, but no unnecessary complications are added. Readers will find that progress is rapid and will be surprised at the relative ease with which they master the first steps in leanring this increasingly important world language.
0-863-56035-0
2340

1

copies
A1 A2 B1 B2 C1 C2
---