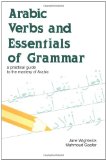 Arabic Verbs & Essentials of Grammar
Jane Wightwick and Mahmoud Gaafar , Passport Books , 1998
Offers an integrated guide to both Arabic verbs and the basics of Arabic grammar in one compact volume. All of the major verbal and grammatical concepts of the Arabic language are presented in 28 units. Each unit is devoted to one particular concept, so that the user will be able to locate specific information quickly and easily. Explanations are concise, yet thorough, and are always followed by numerous examples to assure complete understanding and mastery. The examples use contemporary language, reflecting situations commonly encountered in daily life.
0-844-24605-0
1028

1

copies
A1 A2
---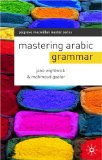 Mastering Arabic. Grammar
Jane Wightwick & Mahmoud Gaafar , Palgrave Macmillan Ltd , 2005
Aimed at beginners or early intermediate learners of Arabic. The book is divided into two parts - basic grammar and verbs - and features clear and concise explanations; numerous engaging practice activities; clear progression from unit to unit; and optional 'Case Notes' sections throughout for those wanting more information on traditional inflected Arabic.
1-403-94109-2
2390

1

copies
A1
---