1-898-94820-8
7500

1

copies
A1 A2 B1 B2 C1 C2
---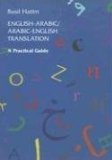 English-Arabic / Arabic-English Translation. A Practical guide.
Basil Hatim , Saqi Books , 1997
Unlike other available translation manuals, this guide transcends the crude dichotomies of 'literal' vs. 'free' translation, 'specialized' vs. 'general', 'communicative' vs. 'semantic'. It concentrates instead on developing a sensitivity to text-types and a deeper understanding of the demands that a given type makes on the translator. In addition, those who follow this guide will acquire the analytical tools needed to make meaningful comments about translation and translations.
0-863-56155-1
2419

1

copies
C1 C2
---