9780521359214
7406

2

copies
---
9780175556939
101346

1

copies
---
9780582066601
101350

1

copies
---
0-435-28991-8
5821

1

copies
---
9780521559799
101334

1

copies
---
9780521559812
101332

1

copies
---
0-175-56395-0
2681

1

copies
---
0-951-45767-5
6012

1

copies
---
0-194-36862-9
7430

1

copies
---
0-951-45768-3
250

2

copies
---
0-17-556626-7
9736

1

copies
---
9780521338479
7429

1

copies
---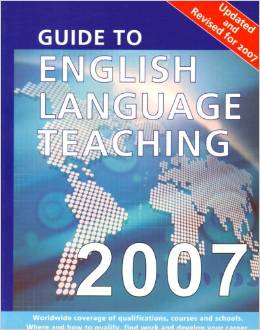 Guide to English Language Teaching 2007
Simon Collin , Keyways Publishing , 2007
This book is an essential reference guide for anyone involved in English language teaching or for anyone considering starting as an English language teacher. It provides the latest information on qualifications, courses and course-providers in over 100 countries, together with paths for career development from initial certificate through to Masters and PhDs
1-898-78917-7
4334

1

copies
---
0-194-33968-8
5819

1

copies
---
0-194-33971-8
5727

1

copies
---
9780435281168
101352

1

copies
---
0-582-42975-7
5826

1

copies
---
1-901905-22-3
8046

1

copies
---
0-582-46901-5
7434

1

copies
---
0-582-07775-3
7431

1

copies
---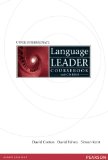 Language Leader Upper Intermediate Coursebook and CD Rom (1st Ed.)
Cotton, D.; Falvey, D.; Kent, S. & Hughes, J. , Pearson Longman , 2008
" Motivating and informative texts which improve reading and listening skills Scenario lessons that focus on key language and work towards a final communicative task Systematic grammar and vocabulary practice with extensive recycling and freque"
9781405826891
105988

1

copies
---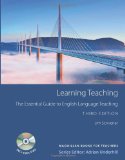 Learning Teaching: The Essential Guide to English Language Teaching 3rd Edn.
Scrivener, J. , Macmillan , 2011
"Learning Teaching" is the essential guide for new teachers and is an invaluable resource for teacher training courses. It combines the basic principles of working in a language classroom with practical teaching advice, helping teachers to plan and run successful activities, lessons, and courses. Included DVD.
9780230729841
105628

1

copies
---
1-898789-14-7
9738

1

copies
---
9780521466301
101348

1

copies
---
9780194370554
5181

1

copies
---
0-521-27262-9
7428

1

copies
---
8-853-00181-X
7413

1

copies
---
---
Play games with English
Granger, C. , Heinemann , 1980
1a ed. de 1982; reimp. de 1982 y 1989 Contiene: V. 1: Begginner/Elementary. -[reprint.]. - 1983. - 74 p.: il. - ISBN 0-435-28060-0.V. 2: Pre-intermediate/intermediate. - [reprint.]. - 1982. - 73 p. : il. - ISBN 0-425-28062-7. -- Book 1: Teachers' book, ISBN 0435280619. - Book 2: Teachers' book, ISBN 0435280635. - Book 1: Games, puzzles, and quizzes for practising your english. - Book 2: Games, puzzles and quizzes for practising your english
9780435280604
101344

1

copies
---